What's new this week
🔴 Live show: Docker will delete free org repos in 30 days
Thursday Mar 16, 10am Pacific, 1800 UTC
In a few minutes, I go live for what should be my monthly course Q&A, but the show's focus has been taken over by Docker's news that we all have 30 days to pay or move any free repositories we have in a Docker Hub org. This news has not gone well, and there's lots of confusion and FUD going on, so after a call with Docker management this morning, I hope to clear up your questions!
Also, I'll have Docker staff on the show next week to update us on any new FAQs and help answer more questions.
Next big thing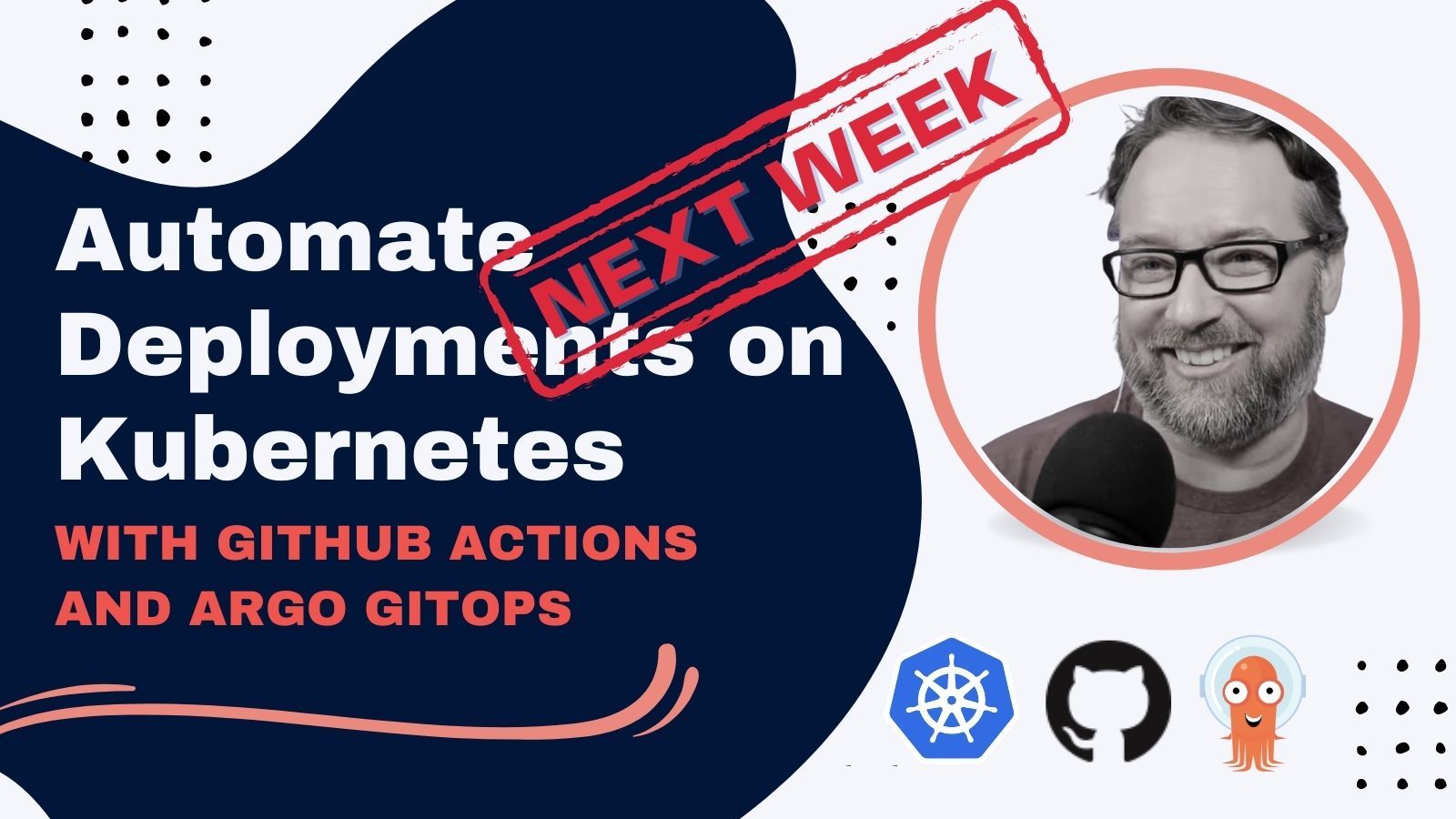 Enrollment closes Friday (Tomorrow!)
Enrollment for my course Automate K8s deploys with GitHub and Argo CD closes this Friday (Mar 17) at 20:00 US EDT (UTC-4). We have a couple seats left.
Juuuuussst in case you haven't heard 😉, my course can help you raise your production success and lower your stress by empowering your team with self-service automation and deployment dashboards. That's GitHub Actions awesomesauce + Argo CD GitOps. You'll apply my Cloud Native DevOps automation design constructed from years of successful implementations for multiple organizations. Let's do this!
🚀 Podcast
Episode #126: Faster Docker Builds with Depot
We're releasing another episode this week and in it, my guests are the co-founders of Depot, Kyle Galbraith and Jacob Gillespie.
If you've never dug into some of the details of Dockers BuildKit, that's the engine behind your Docker build command, then this episode is for you. Kyle and Jacob's focus is on speeding up your Docker builds by doing them remotely. They avoid you needing to rethink your workflows and CI automations and provide a CLI tool that's a drop-in replacement for the Docker build command. I think it's still early days for the Depot product, but if you're suffering with long build image times Depot's already mature enough to be something I would consider as a replacement for the traditional Docker engine builds that we're all used to.
The podcast will be released Friday morning on the podcast apps. However, you can get early access to the web version as a newsletter subscriber.
Tweet of the week
👀 In case you missed it
(headlines from last week's newsletter that you can skip if you already read it)
🔴 Learn Kubernetes through Contributing to Open Source
(Ep 206), Mar 9, 2023
Matt and I welcomed Chad Crowell of KubeSkills to our show. Chad started the kubeskills.com community and podcast to focus on learning Kubernetes by doing. We walked through how you can contribute to Kubernetes' open source.
Thinking of becoming a paying member?
Have you thought about my Membership Subscriptions? You can support all my free content and also get benefits on bretfisher.com/members.
★Join my community elsewhere★
New upcoming✴live✴ course on CI automation and gitops deployments
Best coupons for my Docker and Kubernetes courses
Chat with me and fellow students on our Discord Server DevOps Fans
Grab some merch at the Loot Box
Homepage bretfisher.com
Glad you're here, and I'll see ya next week 👋